Contributors
The following table lists all the contributors featured in the book.

Full Story: These are book's flagship stories and make up the main 101 tales in the book.
Abridged Version: These are the stories that just didn't make it to the final 101, but which were just too good not to share with the readers. They have been abridged and appear in the final chapter of the book. A handful of the stories in this column have been automatically selected for full inclusion in the next edition of the book. If yours is one of them, you will be notified of this in time.
Special Mention: These contributors are mentioned by name in the final chapter of the book as their stories really stood out in some way or another, or were great to read but simply couldn't be squeezed into the tight structure of the book.
FULL STORY
Abadi, Wendy
Aitken, Nigel
Anslow, John
Amojee, Sauda
Arends, Marijke
Armstrong, Johan & Riki
Barker, Elfie
Bhamjee, Arshad
Black, Gavin
Botha, Anrie
Bouwer, Kevin
Bowie, Kerrie
Brindley, Hal
Browne, Richard
Budzinski, David & Cheryl
Clark, Andrew
Colyn, Pieter
Conradie, Derek
Crighton, Andy
de Klerk, Mariana
Doubell, Romey
Du Toit, Riel
Durand, Lourens
Duvenage, Ewoud
Evans, Caroline
Fankhauser, Johann
Farrell, Steve
Fazekas, Mario
Floquet, Winston
Fourie, Pieter & Patricia
Gardiner, Brian
Geldenhuys, Beukes
Grib, Melissa
Griffiths, Keith
Grobler, Piet
Harmse, Diederik
Henderson, Dianne
Henderson, Lesley
Hewson, Ray
Hofman, Sander
Hotz, Gabi
Hurter, Theuns
Keys, Glenda
Klitzke, Ursela
Kreft, Klaus
Kruger, Anton
Kunzmann, Julius
Lagerwall, Colin
Lagerwall, Trevor
Le Roux, Jacky
Legg, Penny & Bob
Lienard, Andre
Lockwood, Geoff
Maclaurin, Andrew
Mare, Leon
Maree, Henk & Hilda
Meiring, Bertus
Meiring, Nicole
Mollentze, Lorraine
Motaln, Sylvester
Muirhead, John
Myers, Darran
Nel, Petro
Niederer, Christa
Oberholzer, Buks
Opperman, Johan
Parratt, Gordon
Pittendrigh, Samantha
Potgieter, Issi
Selfe, Gavin
Shackleford, Angie
Smith, Ian & Melanie
Sparrius, Alma
Spruyt, Philippa
Steffin, Kerstin
Stevens, Kathleen
Steward, Keegan Lloyd
Stewart, Stella
Swart, Marlene
Taylor, Neil
Thompson, Sheenaugh-Lee
van der Merwe, Johan
van Deventer, Hennie
van Huyssteen, Gretha
van Rooyen, Ron
Veenendaal, Tyla Jade
Vlaming, Marion
von Broembsen, Louis
Von Wielligh, Helene
Wills, Janet & John
Muir, Bradley
Munro, Sloane
Myburg, Deborah
Niederer, Christa
Pearson, Grant
Pillay, Sharmla
Pitt, Belinda
Pretorius, Louw
ABRDIGED STORY
Atkinson, Dana
Bhowandas, Ajay
Black, Gavin
Blend, Craig
Boshard, Derek
Browne, Richard
Bothma, Sharon
de Groot, Fred
de Jager, George & Nan
English, Ken & Pearl
Griffiths, Keith
Groenewald, Linda
Hansen, Doreen
Harrison, Ingrid
Hayward, Matt
King, Candace
Knock, Marie
Koch, Michael
Lagerwall, Trevor
Maree, Henk
McKibbon, Richard
Meyer, Jacolene
Ramchander, Sharmeli
Renssen, Jessica
Restrick, Beth
Riddin, Trevor
Smith, Sharon
Van der Helm, Tony
Van Rooy, Ronel
van Zyl, Ruth
Wheeler, Amanda
White, Jerry
SPECIAL MENTION
Allan, Dave
Armstrong, Gillian
Bava, Asma
Becker, Erica-Ann
Bezuidenhout, Sanet
Botha, Ben
Bradley, Samantha
Brierley, Gail
Cahill, Claire
Caithness, Sue
Carter, Daniel
Cohen, Justin
Crundwell, Mavis
Davis, Ryan
De Jager, Mary
de Villiers, Jean
Du Plessis, Fanie
Emslie, Pixie
Essop, Sara
Eugene & Lesna
Fox, Freddie
Guerra, Yvette
Haddeman, Joss
Hamlyn, Morne
Harbottle, Wendy
Harris, Sheila
Henning, Buks
Hughes, Lawrence
Hunt, Peter
James, Ryan
Jennings, Cheryl
Jinnah, Mohammed
Jones, Gareth
Kadwa, Aadila
Kaiser, Birgit
Koboyankwe, Lenny
Krause, Kurt
Krieger, Ronald
Layfield, Rayne
Lewis, Glenda
Lyle, Carla
Marais, Hanlie
Moolla, Nafisa
Moreau, Muriel
Morrison, Joy
Morty, Lyn
Muller, Di
Nel, Johannes
Nel, Penny & Rory
Nicol, Grant
O'Sullivan, Kimberley
Owen-Morley, Robin
Paizis, Dimitri
Peirce, Michael
Petzer, Ilona
Raouna, Andy
Raubenheimer, Audrey
Robbins, Marcelle
Roos, Rika
Seiderer, Shelley
Shepardson, Robert
Skirving, Susan
Smedley, Ronell
Smith, Alan
Stols, Rosemarie
Thompson, Candyce
Utermark, Wendy
van der Merwe, Liza
van Eyck, Xylon
Vermaak, NJ
Vermeulen, Johan
von Fintel, Fred & Christa
Vorster, Johann
Wakefield, Roy
Wales Baillie, Diane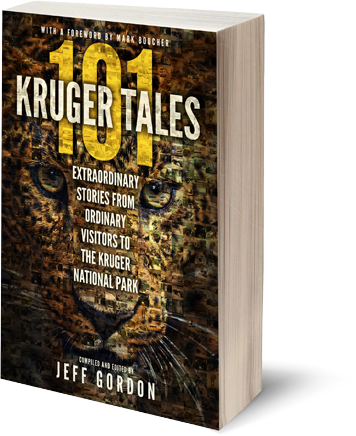 If you only read one book about Kruger - this is it. Beware however, the stories are infectious and you'll be planning your own trip before the first chapter is done. I simply couldn't put it down!

- Cameron Ewart-Smith, author of the Getaway Guide to Kruger National Park and former editor of Getaway Magazine
An absolutely fantastic read ... I can't think of a better way to experience the Kruger than through these fireside stories

- Andrea Weiss, founding editor of go! Magazine
101 stories ... brilliantly told ... Some dramatic and some light-hearted, but all of them colourful and awash with the smell and sounds of the bush!

- Gray King, Amazon.com
Best book ever written about Kruger National Park...

- Dana Atkinson, author of Traveling Africa: A Woman's Guide
Outstanding ... Couldn't put it down - read it in two days! Didn't want it to finish.

- Marinda Drake, White River
Stunning book ... Nearly impossible to put down. An exciting tribute to one of South Africa's best loved parks.

- Wild Magazine
I just want to climb inside the book ... it is absolutely wonderful.

- Louise Roth Fisher, Melbourne, Australia
Inpsiring ... scary ... awesome ... or all of those things and more. Beautifully written, easy to read; a must for anyone who has been or is thinking about going on safari in Kruger.

- Monica Guy, CT, USA